GREATER is the new Erasmus+ Project following EnRHEd
by EnRHED
News added on: 6 February 2023
At this very moment, a UNIPR delegation is taking part in the big launch event (kick-off) of a new international cooperation project financed by the European Commission and, more precisely, by Erasmus+ funds.
This new project will be called GREATER, which stands for Growing Rwanda Energy Awareness Through higher Education, and will focus on innovative technologies and research new engineering and IT techniques and procedures to implement the know-how of 3 Rwandan HEIs.
This project is part of the project tracks traced by EnRHEd over the past few years and involves many people who began their international design "adventure" with EnRHEd, which was then developed and refined with the drafting of the new GREATER project, which was positively evaluated by the Commission and then financed.
Today, therefore, the big project launch event will be held at INES_Ruhengeri in the presence of representatives of the HEIs and various other institutions, including a representative of the Rwandan government and a delegation from the European Union in Rwanda.
Below is the agenda for the morning: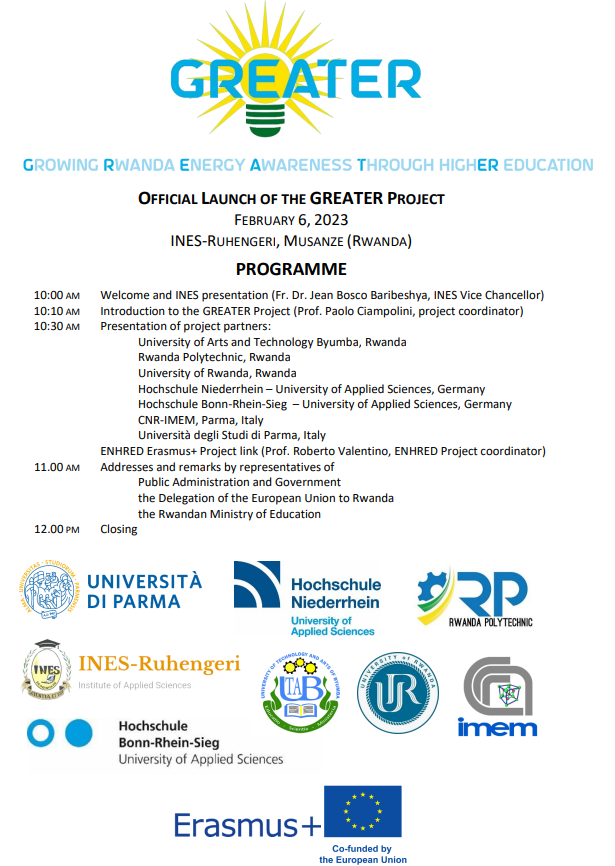 You can follow the live streaming by connecting to the following link: https://www.youtube.com/watch?v=SYriUs-AZQA